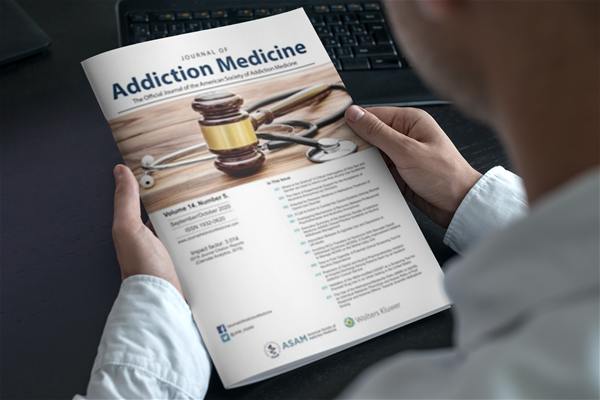 Journal of Addiction Medicine
Published bi-monthly, ASAM's peer-reviewed Journal promotes excellence in the practice of addiction medicine and in clinical research, supporting addiction medicine as a mainstream medical sub-specialty. The Journal is published for physicians and other mental health professionals who need the most current news and information related to treatment of addiction disorders information. Under the guidance of an esteemed Editorial Board, Journal of Addiction Medicine's peer-reviewed articles focus on developments in addiction medicine as well as on treatment innovations and ethical, economic, forensic, and social topics. Each issue of the journal offers CME/MOC opportunities.
ASAM Members receive exclusive features related to the Journal, such as access to all issues and articles published by the journal since its inaugural issue in March 2007; access to the Table of Contents and articles in advance of print; options to save searches and tag articles; and quick and easy access to the Journal of Addiction Medicine podcast.
---
Produced and hosted by Shawn E. McNeil, MD, Director of Neuroinformatic Research & Associate Residency Program Director LSU Health Sciences Center.
These brief podcasts focus on one article per issue and provide physicians and other Addiction Medicine Professionals a closer look at the perspectives of formal research articles. Podcasts offer insights into the experiences of the authors and researchers behind the great work and development in the field. Listeners can connect with the experts behind the journal in a brand-new way. Each podcast runs 15 – 30 minutes and are downloaded by up to 1,500 listeners each issue.
Follow the Podcast
---
ASAM Weekly reaches over 80,000 subscribers weekly. ASAM Weekly is a great way to keep informed and is delivered to inboxes every Tuesday.
Books & Textbooks
Check out our books and textbooks.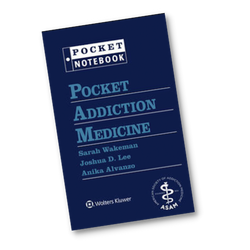 A new volume in the bestselling Pocket Notebook series, Pocket Addiction Medicine delivers highly relevant coverage of this widespread and increasing health care problem in an easily portable source. This handbook provides must-know information on everything from screening for and diagnosis of substance use disorder to managing intoxication and withdrawal, to ongoing treatment of substance use disorder, including caring for special populations—all designed for quick reference at the point of care.